Post 17 July 2011
By

frankB

Hits:

3558
Welcome to my blog.
FRANKIE's TOP 30!!!!!
(Yeah baby, very good)
#30 Steven Wilson INSURGENTES
WHO: During my misadventures on a site called thepumpkins.net, I met a very interesting old man named epitome who claimed to be the greatest English guru of all time. From all around the mysterious website, people had gathered, to brag about how many CDs this ancient skull had listened to.
Being naturally arrogant and obnoxious as any Australian comedian would be, I laughed off their outrageous claims professing myself to be the true God of music appreciation.
Quite often I took it upon myself to make fun of the seemingly 'geeky' steven wilson thread. Who was this Steven Wilson? Did I even care? The answer was of course that I didn't.
But one afternoon I was feeling generous. I said to the aging skull, GIVE ME ONE song. He posted Porcupine Tree's Russia on Ice which was on first listen, an absolute outstanding classic.
What the hell? I thought.
How can Porcupine Tree be that good? I've never even heard of them!
It was soon recommended that the first album I invest in (albeit illegally download) was Steven Wilson's Insurgentes.
Which after hearing title track Insurgentes and Abandoner I did.
WHAT: What we had here was an instantly likable CD. The true winner of course was the first track on the album Harmony Korine. Harmony Korine was brilliant in every way a (non-epic) song should be. Everything about it just sounds right. The guitars explode. The chorus ignites. True passion that is relevant to the modern era. I can't imagine a single person not liking it.
Track 2 Abandoner, just changes things up so much. He could've continued the set path of Harmony and played it safe - but genius Wilson – explores new terrain, and evolves his already spectacular music.
No Twilight Within The Courts of The Sun, Significant Other and final track Insurgentes bring out the full force of the album, and mark it's originality. Easy listening and experimental have hardly ever been in the same package. But that's exactly what happens here.
WHEN: Released November 2008, and I found it in April 2011.
Present Listening Status – 1 – 5 times per week.
WHERE: This album is ready for constant repeats. On the thirty fourth listen, you will still hear new things. So much depth and oblivion is present, but this is still an adaptable album. I personally would be as comfortable as putting this on in the background while letting my friends chill in party setting, as I would be to take it on a long walk and share it's intimacy. It is rare to find a work that has those intangible layers…
WHY: For me as a meditative writer, there are few songs that can be played whilst I am working. Most interrupt, a few are neutral, and the odd rarity improves the work I produce.
Track 4 Veneno Para Las Hadas I must've listened to more than 200 times whilst writing.
And listening to it right now, it is still a bloody good song.
Frankie's Track Picks
Veneno Para Las Hadas

Harmony Korine

Insurgentes

FINAL RATING: 8.5
#29 R.E.M. NEW ADVENTURES IN HI-FI
WHO: OK. Time for the 'I've only heard one album' confession. Seriously. This album is it for me. Which isn't to say that I don't know REM. I've probably listened to their main hits a hundred times a piece. I also have the best of which is better than this 'real' album, but best of's are obviously a no go zone here.
I'm thinking about REM as a band and why I never got into them properly. Seems kind of weird. It's like since about the age of 15 I've always been thinking in my subconscious (and I really should check out another REM album) but I've never got around to it. There's always been something more interesting. R.E.M's overall sound doesn't seem to fluctuate much either. A lot of their songs are catchy, and Stipe has a very unique voice, but they're almost the mainstream of alternative. They're not heavy enough. They're not emotional enough. They're not different enough. R.E.M. are a cool band, but I think I've only met one hardcore fan in my entire life.
WHAT: New Adventures In Hi-Fi is actually a very strong album. When making the list I was faced with a lot of difficulty, because there are so many albums I like two or three songs from and the rest is average. This album is very consistent. There isn't a song on here I don't like. For me, it's sort of an album I'll put on every once in a while just for something different. The only two stand outs are Leave and E-bow the Letter. They are both very distinct tracks. Leave in particular is epic, and probably sails past eveBizzaro Rebecca Blacke of their singles on the best of.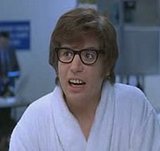 WHEN: New Adventures was released in 1996 and I've owned a copy since 2001. Since I don't listen to it too much, it's still an album I will listen to in contemporary day. I guess that's saying something.
Present Listening Status – Once a fortnight
WHERE: It's very low key for the listen. I'm comfortable opening my evening with this album before I get to the good stuff.
WHY: For anybody who likes R.E.M. but doesn't have this album, I highly recommend it. But for anyone who doesn't listen to R.E.M., it won't convert you to the band. Or at least it didn't convert me ;)
Frankie's Track Picks
Leave
E-bow the Letter
FINAL RATING: 8.5
#28 Thom Yorke THE ERASER
WHO: Thom Yorke is the leader of Radiohead. I'm sure most people know that though. So how is this little solo album of his any different from any Radiohead album (post OK Computer) ?
The answer is that it isn't.
WHAT: The Eraser is in no way a mean feat. While there is the notable absence of a drummer on most of the songs, there is certainly an investment in the other areas. Less work seems to have gone into this than a traditional Radiohead album, but for some reason the songs are more concentrated and unique than most Radiohead albums. With only 9 songs, all filler that has been removed. The songs are delicately produced, with many layers of music for each song. Title track The Eraser is clearly the notable stand out, but there are many other songs that sink with almost the same precision. Ultimately The Eraser is a more up close and personal take on the Radiohead front-man, and despite the band's recent tread into the dark alternative, The Eraser remains the least commercial piece of music Yorke has been apart of.
WHEN: 2006. On first listen I liked the first song, and disposed of the rest as being mediocre. But this album grows on you. It find that it's good to pick up and enjoy every once in a long while. It can hold it's ground to a variety of settings, including writing. But it's certainly never been an encore with me – even at the high point of its listening.
Present Listening Status – Today is the first time in at least a year.
WHERE: Well, I think it's just for you and your lazy eyed Radiohead friend. Definitely don't break it out in a group setting, because it won't be halfway into track 1 before someone's switched your disc for Rhianna.
WHY: The album is solid. I can enjoy the whole thing through one sitting. And it's totally not pretentious, which I find most Radiohead albums to be.
Frankie's Track Picks
The Eraser
FINAL RATING: 8.5
#27 Silverchair FREAK SHOW
WHO: Australian garage rock band active during mid to late nineties, before they went all commercial with their millions of dollars and tried to create 'art'. Before I was into alternative music, I got into the single Freak because it was in the charts. I thought I was pretty cool jamming to this song.
Silverchair were actually one of the first rock bands I got into after Smashing Pumpkins. Neon Ballroom had just been released, and that was a 'cool' album.
WHAT: But Freak Show is where it's at fellas. At the time everyone was raving about Neon Ballroom, I was off to the CD store to purchase Freak Show. I mean come on. It had Freak on it. And that Abuse Me song. It had to be cooler than Neon Ballroom right?
Unfortunately the Ballroom was the craze. Even the guy who got me into the Pumpkins said:
"Freak Show only has three good songs on it. The rest is crap. I feel sorry for you."
Well, now I feel sorry for him. Out of all of Silverchair's albums, this is the only one worth listening to in its entirety. Their debut album Frogstomp also has some brilliant 'singlular' tracks on it: Tomorrow and Israel's Son are particularly great. The rest of Frogstomp gets boring kind of quickly. With Neon Ballroom (1999) there is one great song and a bunch of mainstream songs. I guess you could call it Silverchair's Teargarden, except I like Teargarden heaps more than Ballroom. And as for the other two Silverchair albums – let's not even go there OK?
Freakshow is a brilliant album. Honest, raw, emotionally captivating and full of rage it's an album I will always rate highly. As good as the commercial singles are, they are still no match for the album's hidden treasures. The opener Slave is a brilliant rock anthem – as good as any other they've done, if not better. Learn to Hate and The Door bring me right back to the first days of listening to the album (I love when that happens!), but it's the gloomy brutal epic Nobody Came that takes the crown for Freak Show.
WHEN: Released 1996.
Present Listening Status – Once or twice a month.
WHERE: My bedroom in the afternoon, after I've played SD and Zeitgeist to death, there's always this little beauty to give me the adrenalin lift. And if I'm feeling nostalgic, this album let's me travel back in time.
WHY: I actually went to the same high school as Daniel Johns (though many years later). And we had teachers coming up to us and saying that's where Daniel used to sit and so on, and everyone felt really special.
Frankie's Track Picks
Nobody Came
Slave
Abuse Me
Freak
FINAL RATING: 8.6